Nitro SLASH 2WD 1/10 Short Course Truck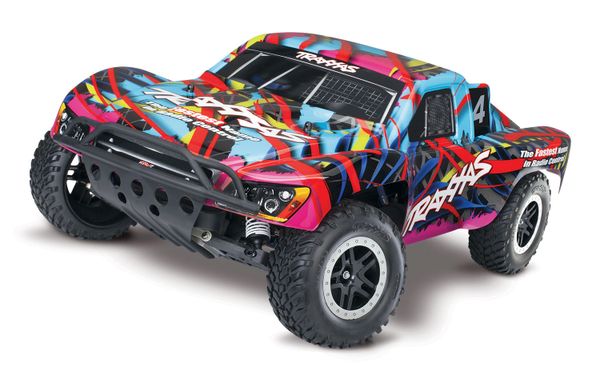 Nitro SLASH 2WD 1/10 Short Course Truck
QUICK FEATURES ON NITRO SLASH (#44056-3)
Traxxas Stability Management
TQi 2.4GHz Radio System
High-Torque steering and throttle servos
Race Replica SCT wheels with color-coordinated centers and beadlock trim
Aggressive, authentic Pro 2WD body design
TRX® 3.3 engine with EZ-Start® electric starting
Tuned exhaust system with blue-anodized aluminum header
Compact enclosed receiver box
High-flow dual-stage air filter
Large capacity 150cc fuel tank
Heavy-duty drivetrain with rubber-sealed ball bearings
Ready-To-Race® with race replica factory-finished and decaled body
2amp DC peak detecting fast charger
Nitro Slash comes as a complete package with professional factory assembly; installed high-power pistol grip radio system; a detailed setup and tuning DVD to acquaint you to starting, racing, and maintenance; and one of the most powerful Ready-To-Race® engines available. Plus, Nitro Slash is backed by a team of R/C pros who aim to provide the highest level of factory support possible. We're with you every step of the way to answer questions and help you get the most from your Nitro Slash. Toll-free* support is available via telephone, e-mail, or online. The TRX 3.3 Engine is backed by the Traxxas Power Up Plan that makes it simple and affordable to upgrade to a brand-new engine and even more power down the road. As with any Traxxas model, Nitro Slash is about experiencing total performance and satisfaction, not just in the truck, but also with the company that stands behind it.

MODEL 44056-3: Fully assembled, Ready-To-Race®, with TQi™ 2.4GHz Radio System,
Traxxas Stability Management®, 2-amp DC Peak Detecting Fast Charger and TRX 3.3® Racing Engine.