Junkers JU-87B Stuka Balsa Wood Model Airplane Kit 1002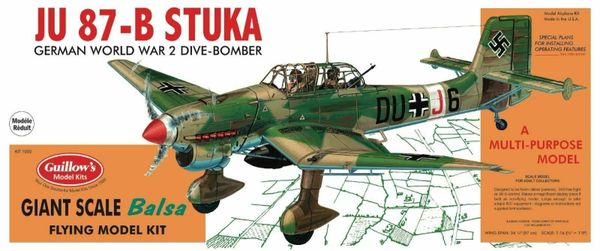 Junkers JU-87B Stuka Balsa Wood Model Airplane Kit 1002
WW II Junkers JU-87B Stuka
Balsa Wood Giant Scale Model Airplane Kit
Made in the USA

Wing Span: 34 1/4"Scale: 1/16 For Ages 14 and up. Kit can be built as a beautiful scale display model or flown (rubber free flight or powered U-Control). Although the fuselage of this model is roomy enough to take simple R/C equipment, no instructions or diagrams are included or available.

FEATURES:
Flame dampers
Sliding canopy
Detailed cockpit interior
Operating bomb trapeze
Movable dive brakes/flaps
Movable tail surface
Die-cut balsa parts and a generous amount of balsa stock
Full-color decals
Perfectly-formed plastic parts
Ample covering tissue
Clay for balancing
Detailed plans and instructions
Early in World War II, the world was stunned by the effective dive bombing tactics of the JU 87 Stuka. First tested in the Spanish Civil War, it went through considerable design changes before emerging as the formidable bomber of the early 1940s. For two years, this plane was one of the most successful weapons of the Luftwaffe and was used to spearhead the German drives into enemy territory. The JU 87 saw much service on the Russian front as an anti-tank weapon and was also used in the African desert on the Malta raids and in the Italian campaigns. Although considered obsolete within two years after the beginning of the WW II, the JU 87 went on to see action until the end of the war and enjoyed the distinction of being, besides the American Douglas Dauntless, the only mass-produced dive bomber of WW II.