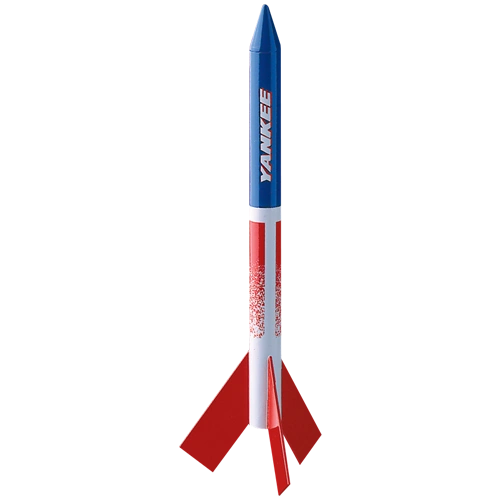 Yankee Rocket Kit #1381
(Formerly Skill Level 1)

The Estes Yankee is an exciting Skill Level 1 rocket kit that knows how to rip up the skies! When flown with powerful Estes model rocket engines, this ultra trim missile screams to amazing heights over 1,800 feet! After a cloud-topping flight, the Yankee returns safely with a neon orange streamer. Within minutes after landing, it's ready for another high altitude launch!
The Yankee stands 11 inches tall and features a one piece body tube, laser cut wood fins, conical shaped nose cone and colorful red and white, All-American looking self-stick decals. Just follow the suggested paint scheme and your Yankee will really stand out on the launch pad or on your shelf.
Be patriotic, get a Yankee and add it to your collection today!
WHAT YOU NEED TO BUILD: Scissors, pencil, ruler, fine sandpaper, carpenter's glue, plastic cement, hobby knife, masking tape, clear tape, primer (white), paint (blue, white) and clear coat (optional). (Tools, construction and finishing supplies not included.)
WHAT YOU NEED TO LAUNCH (sold separately): Estes Porta-Pad II Launch Pad and Electron Beam Launch Controller, Estes model rocket engines, starters and recovery wadding. Four 1.5V high quality AA alkaline batteries are also required for launch controller (not included).