Three Bandits Rocket Kit #2435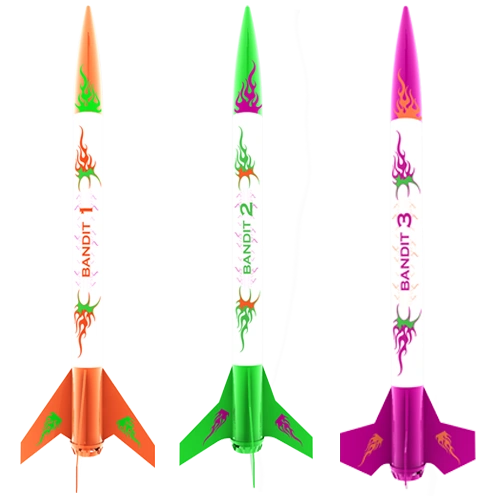 Three Bandits Rocket Kit #2435
(Formerly Easy to Assemble)

It's a heist! The clouds are under attack! They fly on mini engines, but these three bandits are sneaky and fast and don't let gravity hold them back.
These bandits came to fly as a team, but keeping your eye on 'em is the real trick.
Easy to assemble gets you to the flying field quick. 3 rockets, all mini engine powered, can reach heights of 550 feet! Once the engine is depleted, these bandits float to the ground on a 6 in. parachute as if to say "you caught me".
WHAT YOU NEED TO BUILD: Scissors, carpenter's glue and plastic cement. (Tools, construction and finishing supplies not included.)
WHAT YOU NEED TO LAUNCH (sold separately): Estes Porta-Pad II Launch Pad and Electron Beam Launch Controller, Estes model rocket engines, starters and recovery wadding.  Four 1.5V high quality AA alkaline batteries are also required for launch controller (not included).