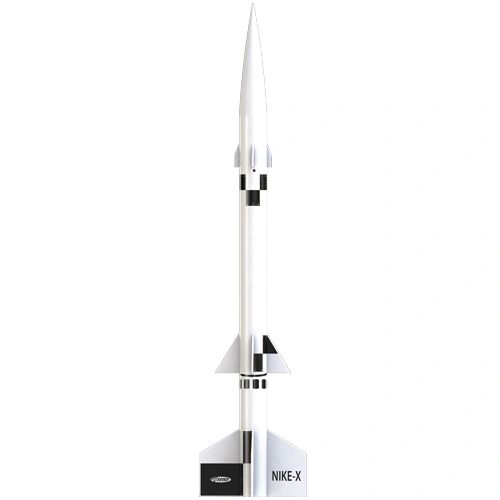 Nike-X Rocket Kit #7259
The Nike-X single stage rocket is a scale-like model of the army's 4th generation, two-stage surface-to-air interceptor missile. The Nike project spanned several rockets and design iterations, but the Nike-X remains legendary.
This Nike-style design with army décor including high-quality realistic roll pattern waterslide decals bring this rocket to life on the pad. It touts a great performance, impressive flights, and an advanced build for those rocketry experts and enthusiasts.
WHAT YOU NEED TO BUILD: Scissors, pencil, ruler, fine sandpaper, carpenter's glue, hobby knife, masking tape, primer (white), paint (black, white) and clear coat (optional). (Tools, construction and finishing supplies not included.)
WHAT YOU NEED TO LAUNCH (sold separately): Estes Porta-Pad II Launch Pad and Electron Beam Launch Controller, Estes model rocket engines, starters and recovery wadding.  Four 1.5V high quality AA alkaline batteries are also required for launch controller (not included).