Commanche III Flying Model Rocket Kit #7245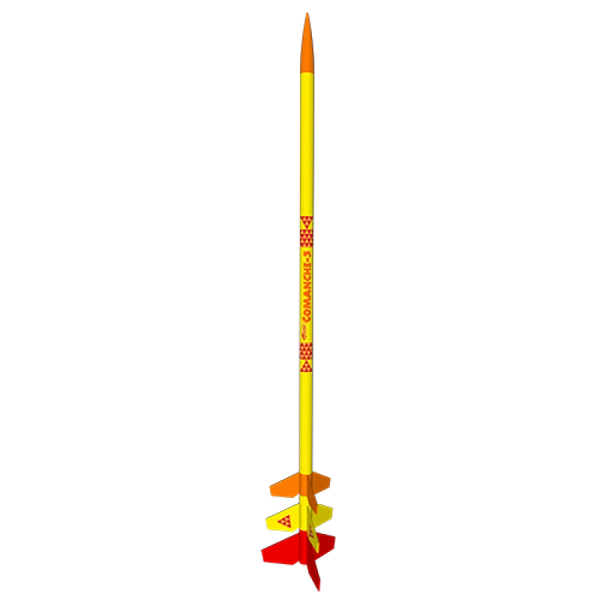 Commanche III Flying Model Rocket Kit #7245
Skill Level 3 - Expert - 

Back by popular demand and a new color scheme! The Comanche-3 has always been a crowd pleaser and this time around is no different! Dual streamer recovery brings this awesome rocket back to earth with tumble recovery for the boosters.

When two stages simply aren't enough, try three! A "D" first stage booster gets things going in a hurry. Estes' Comanche 3 model rocket roars to ultra high altitudes, over a half mile high!


Length - 41 in. (104.1 cm)
Diameter - .98 in. (25 mm)
Estimated Weight - 2.5 oz. (70.9 g)
Projected Max Altitude - 2250 ft. (686 m)

Laser Cut Wood Fins, Waterslide Decals, Dual Streamer and Tumble Recovery
Recommended Engines: 3 Stage Launches--1st Stage: C11-0, D12-0. 2nd Stage: B6-0, C6-0. Rocket: B6-6, C6-7. 2 Stage Launches using 2nd and 3rd Stages--2nd Stage: C6-0. Rocket: B4-4, B6-4, C6-5. Rocket Only: B4-4, B6-4, C6-5.

Projected Max Altitude: 2250 ft. (686 m)

Estes model rocketry is recommended for ages 10 and up with adult supervision for those under 12. Unless otherwise specified, all models require assembly. Tools, construction and finishing supplies sold separately. In order to launch, a launch system, model rocket engines, starters and recovery wadding are required - sold separately-unless otherwise specified.