Solo Flying Model Rocket Kit #7288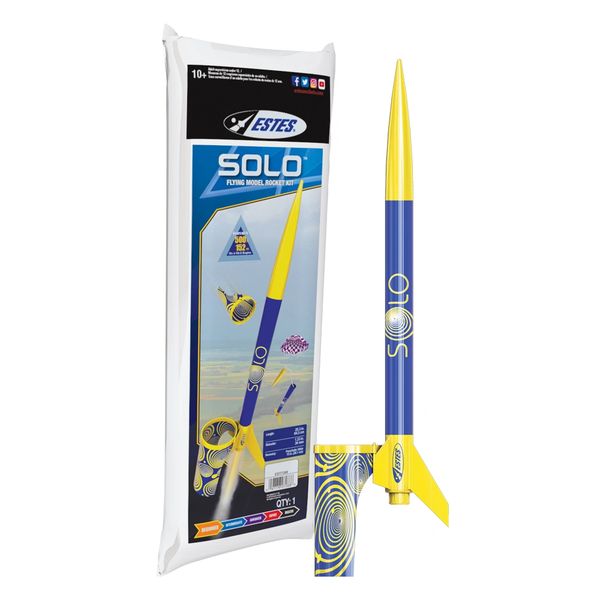 Solo Flying Model Rocket Kit #7288
It's hard to find easy-to-build and fly Beginner rockets with truly unique characteristics. That's what makes the solo stand out on its own! It can fly up to 500 ft. before breaking apart and returning to the ground.
The Solo features a breakaway pod that glides to the ground, dancing through the sky during recovery, utilizing the wind and thermals to float gently to the ground. The main body of the solo comes down under parachute to touch down safely. At apogee, when the rocket reaches the peak of its flight, the pod can slide freely forward, dislodging itself from the rocket.
The main body of this rocket utilizes a 15" parachute and stands more than 2 ft. tall! Experience the flight of the Solo for yourself.
WHAT YOU NEED TO BUILD: Scissors, pencil, ruler, yellow glue, plastic cement, hobby knife, clear tape and masking tape. (Tools, construction and finishing supplies not included.)
| | |
| --- | --- |
| Recommended Engines | B6-2, C5-3, C6-3 |
| Projected Max Altitude | 500 ft. (152 m) |
| Recovery System | 15 in. (38.1 cm) Parachute |
| Length | 25.3 in. (64.3 cm) |
| Diameter | 1.33 in. (34 mm) |
| Estimated Weight | 3.3 oz. (93.6 g) |
| Estimated Assembly Time | 1 Hour (painting and glue drying time not included) |
| Fin Materials | Plastic |
| Decal Type | Self-stick |
| Launch System | Porta-Pad II and Electron Beam Launch Controller |
| Launch Rod Size | 1/8" |
| Age Recommendation | Estes model rocketry is recommended for boys and girls ages 10+ with adult supervision for those under 12, and rocketeers of all ages. |